Inspirit is dedicated to uplifting the human spirit by providing live, quality performances to isolated people who reside in restricted environments, such as healthcare facilities, and are otherwise isolated from society. We are very excited about the potential of this project to help this segment of people in our community who are often overlooked. Our performances enrich the soul and promote wellness through the healing power of the performing arts.  In carrying out our mission, Inspirit seeks to create a social awareness of people who are isolated from the world at large. Click here to download the Inspirit Brochure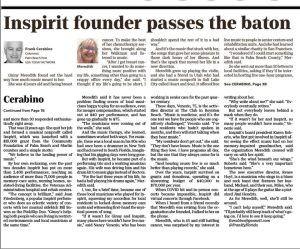 Inspirit founder and Executive Director Ginny Meredith has retired after 21 years of exemplary service.
Read More »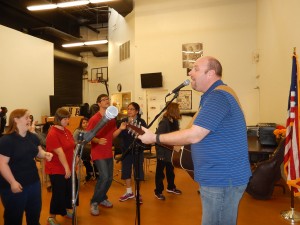 Seniors and others who occupy the facilities we serve are in one of the highest risk groups for COVID-19. Most of these facilities were restricting nonessential personnel from entering their buildings. Some of our performers are older and at higher risk as well so we made the difficult decision to
Read More »
April 2022 Dear Fellow Inspiriters: As longtime board chair and ardent supporter of Inspirit, I want you to be among the first to help me honor and thank our Founder and long time Executive Director Ginny Meredith, who decided in late 2021 to retire after guiding Inspirit for twenty one
Read More »
A SPECIAL TOUCH…
With a grant from the National Endowment of the Arts, Inspirit arranged for Miami musical artist Nicole Yarling to conduct a workshop at the Palm Beach County Juvenile Detention Center. At first, Ms. Yarling's outreach was shunned by these young men, all in lockdown. But by day's end, one had written this beautiful composition. Because of their ages, faces could not be photographed. But the message is powerful.